Within the framework of the "Chinese-German Cooperation Project on Animal Breeding in China" another online supported seminar took place from 15th – 17th July 2020. Organised by the project team in cooperation with the German Farm Consulting (GFC) and the Chinese-German office in Yifa, a three-day seminar on "Selection of gilts and their precise integration" was held at the project demonstration farm Henan Yifa Animal Husbandry Co, LTD.
About 20 participants from the different departments, including farm employees, farm managers and middle management managers of the demonstration farm Yifa attended the training.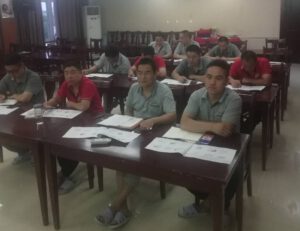 Following the proven pattern, the digital training course was also divided into 3 parts: On the first evening a theoretical part, on the second day the practical part and a final part at the end of the course, where the participants had to pass a test.
After the opening ceremony by Mr. Yang SongBaiging from the demonstration company YIFA, the actual training started under leading of Dr. Ulrich Presuhn. The selection of young animals – boars but especially gilts – is the basis for the next generation. The aim of this training was to convey the systematic approach to the process and to anchor it in the routine operation. At the same time the selection of the gilts is also the starting point for a successful integration into the herd of sows. During the training, the future addition and expansion of the herd was worked out exactly.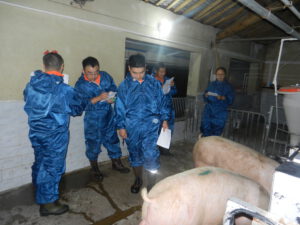 During the practical part of the training the German partners were again switched live into the barn so that open questions could be answered on site.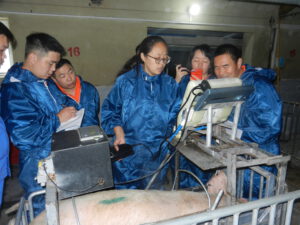 Finally, the participants had to undergo a certificate issued by YIFA to check and consolidate what they had learned. The certificates were handed over at the closing ceremony.
A report about the training in Chinese: