Since 2011, exchanges and cooperation between China and Germany in the field of livestock breeding have been deepened, and cooperation projects for the development of livestock breeding, such as the cattle and pig industries, have been successively implemented. The first two rounds covered and developed the distribution and structure of breeds in China, triggered the improvement of the technical level of the industry and the strengthening of exchanges between market participants of the two countries. Based on bilateral consultations and with the approval of the Chinese Ministry of Agriculture and Rural Affairs and the German Federal Ministry of Food and Agriculture (BMEL), the National General Animal Husbandry (NAHS) and the German GFA Consulting Group jointly launched the third phase of the Sino-German Cooperation Project on Sustainable Development of Animal Husbandry in the form of an online video conference on January 19, 2022, and signed the agreement.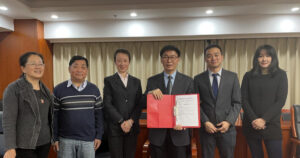 Mr. Guan Dahai, Deputy Director of the Eurasia Department of the International Cooperation Division of the Ministry of Agriculture and Rural Affairs of China, and Mr. Hoffstadt, Head of the International Projects Division 624 of the German Federal Ministry of Food and Agriculture, made speeches one after another; Mr. Su Hongtian, Senior Livestock Officer of the National General Livestock Station, attended the meeting and elaborated on the project points to implement the third phase of the project.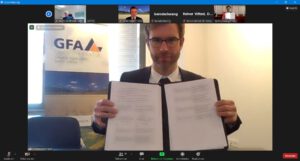 The aim of the Phase III project is to focus on four core themes, farm biosecurity, breeding innovation, feeding systems, environmental and climate capacity, and to work out a three-year technical exchange and cooperation for the two types of livestock – pigs and cattle. The aim is to promote the development of China's livestock industry. The project departments of both sides said they would immediately establish the communication channels at all levels, clarify the procedural rules and decision-making procedures, and determine the selection of project sites. In refining and updating the implementation plan, the impact of the new coronavirus outbreak on project implementation must be fully considered. As project implementation progresses, the possibility of expanding collaboration should be explored.
This year marks the 50th anniversary of the establishment of diplomatic relations between China and Germany. Cooperation in agriculture has always been an important part of bilateral relations between China and Germany and is highly appreciated by the governments of both countries. Intensive contact leads to fruitful results. Thanks to the joint efforts of NAHS and the German implementation team – adt project / GFC – the Sino-German Center for Technological Innovation in Animal Breeding is working well. Su Hongtian stressed that NAHS will fully implement the specific requirements of the agreement signed between the Chinese and German ministries of agriculture on cooperation in the sustainable development of livestock, give full play to its advantages and promote the better and faster development of the project.