The Chinese are fighting the African swine fever (ASF) epidemic by all means.
One area is the massive restriction on the traffic of pigs / pork products – especially in form of frech products. This leads to a heavily distorted price in the individual provinces. The pig strongholds have a surplus of pigs and therefore low price. The "importing provinces", however, have a shortage and high prices. This leads to more and more attempts to transport illegal pigs / pork.
Recently, the Nanjing traffic police found in the trunk of a bus hidden 58 boxes of nearly 2.5 tons of raw pork, The pork batch came from a slaughterhouse in Shangqiu (Henan) which was intended for sale in Ningbo (Zhejiang – about 900 km).
Over 50% of pork production in Henan can not be marketed regularly after the outbreak of ASF.
Crimean at the same time was the control of the bus – at the remote toll station of the four Yangtze River Bridge, the vehicle was stopped. Large foam boxes found in the trunk included pork – not refrigerated.
The police then recruited the staff of the Livestock and Veterinary Section of the Liuhe County Agriculture Committee of Nanjing City to control the find. The batch of pork was transported under catastrophic conditions, much too warm, all labels and papers were missing. The bus driver stated that he had been instructed by the boss of the bus company to pick up the boxes from the slaughterhouse and transport them to Ningbo. The samples will be further investigated to assess the true risk posed by the illegal transport. The process will result in criminal consequences!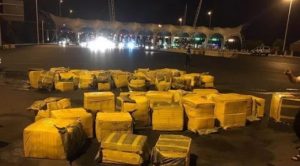 58 boxes of raw pork meat were hidden in a bus.
As with all epidemics, man is the biggest risk factor!
The figure shows the goods traffic between the provinces with overhang and demand for pork.